In 1989, it all started with just one car… Now, Lauwen Transport in the Dutch village Etten-Leur has grown into an up-to-date transport company with 15 pulling units, including a LHV (long heavy vehicle). Lauwen Transport is well-known as the specialist for full shipments from South-West Netherlands to the Paris region. Transporting containers is another of its activities. Lauwen takes care of all your transports, ranging from chemicals to electronics!

Grown up with lorries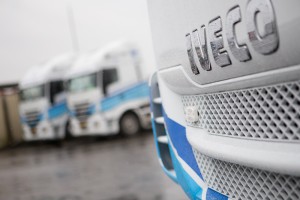 From his early childhood on, owner Corné Lauwen has lived in the word of lorries: "My father was a driver and I often accompanied him. Later on I was employed as a driver and I worked for customs for 2.5 years. In that period, I acquired my certificates to start my own company." In 1989 Corné and his wife Anja started a transport company with one car. After six months they added a second car. At present the company has 15 pulling units, including one LHV (long heavy vehicle). Corné: "We have various clients for whom we do their regular runs, especially to the Paris region. We also carry out many container transports from the ports of Rotterdam and Antwerp to Western Brabant in the Netherlands and Belgium.

We take care!
Quality is paramount to Lauwen Transport. Corné: "Our clients rely on us. We ensure that each transport is carried out properly and according to the agreements. Several of our lorries can be employed 24 hrs. a day, enabling us to carry out urgent jobs. High-quality cargo is safe in our closed body trailers which are professionally secured with an alarm system and an anti-burglary lock. Furthermore, our drivers possess the right certificates for the transport of hazardous goods and annually take a special refresher course in defensive and safe driving. 'We take care' comes first!"

Contact
Lauwen Transport has been granted the Transport and Logistics Quality Mark and meets the SQAS standard. Are you looking for a reliable partner for your transport? Lauwen Transport takes care!
Please call us at +31 6 53103707 or send an e-mail to info@lauwentransport.nl. We are happy to be of service.